Distress beacons
What is a distress beacon?
A distress beacon is an electronic device that, when activated in a life threatening situation, assists rescue authorities in their search to locate those in distress. Beacon registration is mandatory in some cases and can be completed online at no cost.
Do you need a distress beacon?
Distress Beacons save lives – in some cases it's the law. Most boats travelling more than two nautical miles from land must carry an Emergency Position Indicating Radio Beacon (EPIRB). Aircraft are also required under Civil Aviation Safety Authority (CASA) regulations to carry an Emergency Locator Transmitter (ELT) in flight. Check your Commonwealth, State or Territory authority for the specific regulations applicable to you.
State and Territory carriage requirements
Beacon types and models?
There are three different types of beacons:
PLB beacons are for personal use by bushwalkers, 4WD drivers, other adventurers on land, employees working in remote areas, crew in boats and aircrew. This type of beacon is becoming a multi-environment beacon.
EPIRB and Float-free EPIRBs beacons are usually for use on water.
ELT beacons are usually for user on aircraft. Hoever, EPIRBs and PLBs can be carried in place of an ELT.
Use our guide to find out which beacon is right for you.
Which beacon should I buy?
Types of beacons
How beacons work
When activated, beacons transmit a signal that can be detected worldwide by the international satellite system, Cospas-Sarsat. The signal is detected by a Rescue Coordination Centre to coordinate a response. The time it takes for search and rescue to reach you depends on a number of factors, including the weather, if it's day or night, the terrain, available assets and accessibility of your location.
How beacons work
Taking your beacon overseas
You can take your beacon overseas. Before doing so, contact your chosen airline for guidance on carrying distress beacons, as every airline and airport have differing requirements. Also note that some countries consider PLB carriage and activation illegal on land. AMSA recommends contacting search and rescue authorities in the country you are travelling. Refer to the Cospas-Sarsat website for the appropriate SPOC (SAR point of contact).
For more information on using your beacon internationally, see using your beacon.
Hex IDs and UINs
The HexID or Unique Identification Number (UIN) is the unique code programmed into each 406 MHz distress beacon and transmitted when the beacon is activated. When registering a distress beacon, this code must be included on the registration form as it is the only code that links the individual distress beacon to the registration database. Without the HexID the beacon cannot be registered.
The HexID is 15 characters long and is made up of hexadecimal numbers (0-9) and letters (A-F). The HexID can be found on the label of all 406 MHz distress beacons.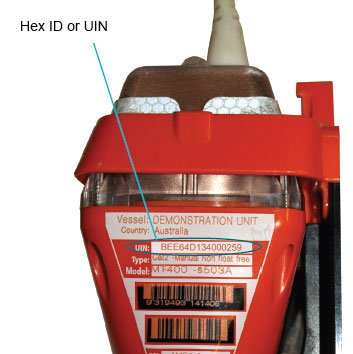 Related information